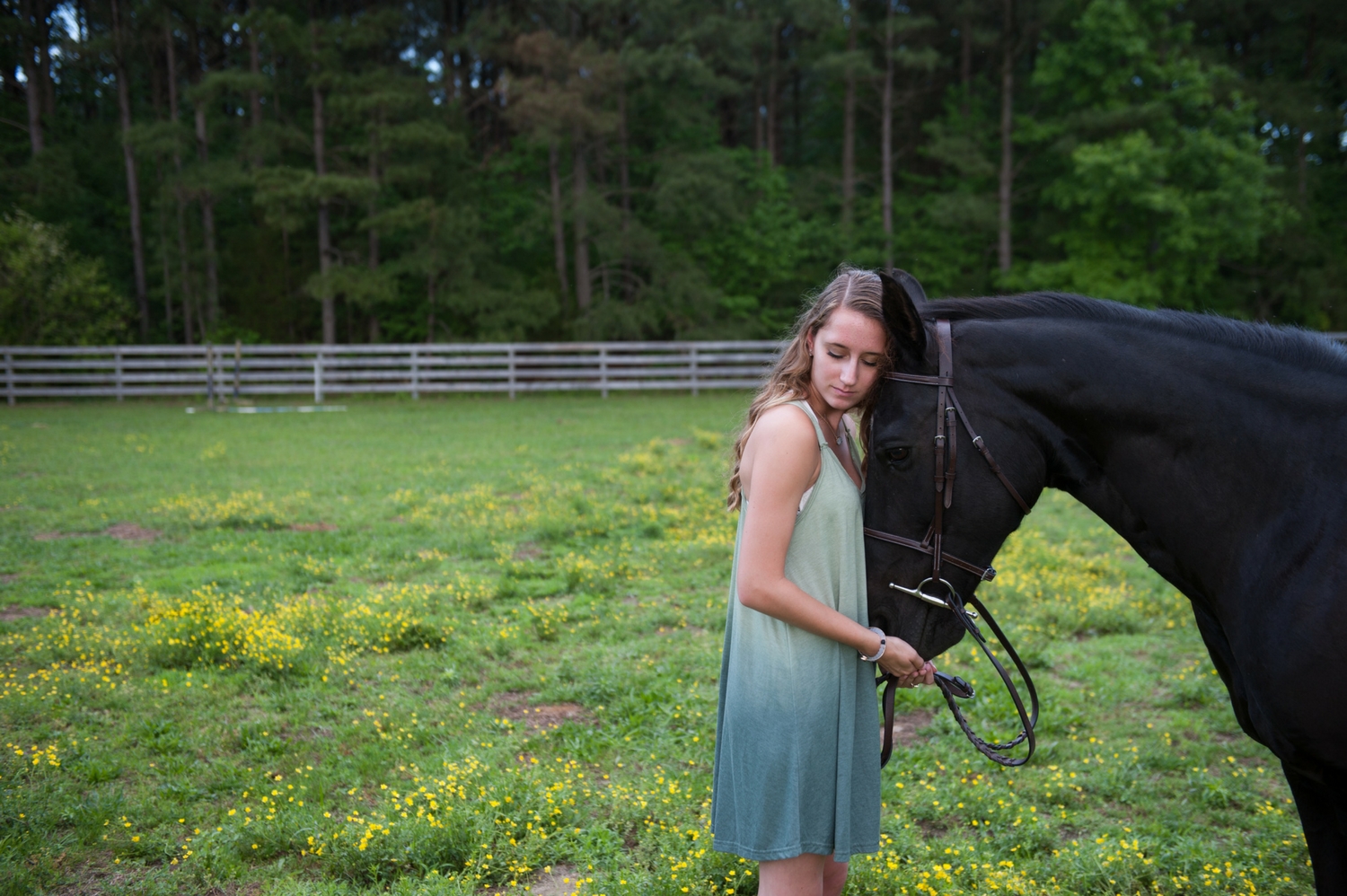 "Breathtaking, heart stirring, stunning were just a few of the words I could grasp to convey the feelings I had when Teresa and Justin unveiled our portraits. They nailed it!"
Linda Mayakis
Equine Senior Portraits
Wakefield High School
Nicole
Wakefield High School Class of 2018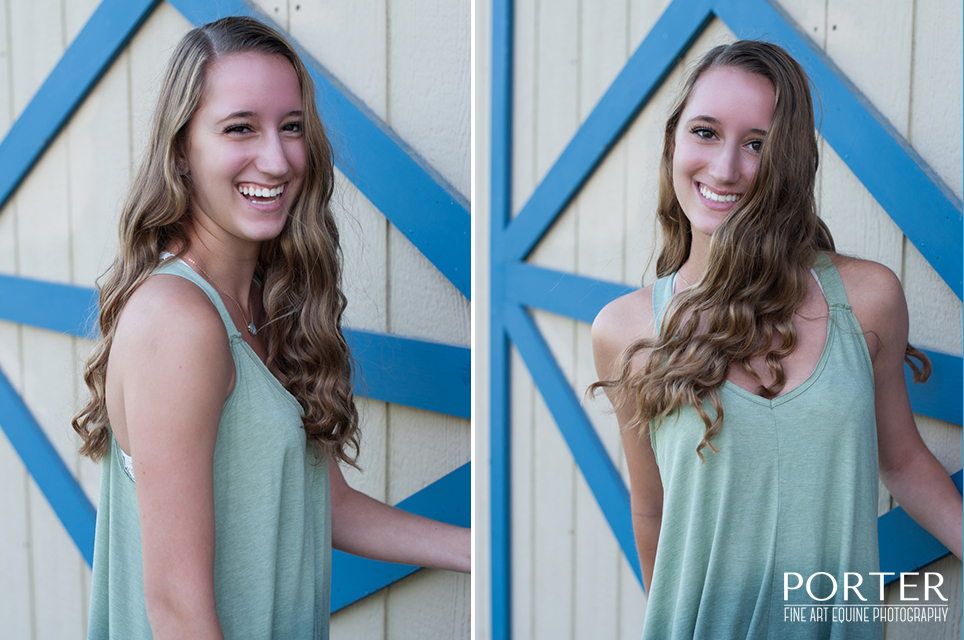 Equine senior portraits are one of our favorite types of photography so we were thrilled to pieces when Nicole and her twin sister Michelle came to us for senior portraits with their horses.  Nicole is a woman of many interests and talents – dance, choreography, even being a camp counselor at an equine vaulting camp.  While she definitely loves to hang out with friends and see a good movie, you're most likely to see Nicole at Mane View Farms, their horse farm in Wake Forest.
When you get to the farm you'll be able to spot Nicole's horse from a pasture away because of her bright pink halter.  If horses can be fashionistas then Ebony is the queen of the barn with the hot pink contrasting with her dark coat.  She is a sweet girl, despite her tough start.  Ebony was rescued by Nicole and her family.  After a lot of love and attention she has become a trusted, special member of the family.
Among her many other talents and interests, one in particular has stood out.  Nicole is an equestrian vaulter which means she does gymnastics and performance on top of her horse!  If you are saying to yourself, "what in the world?" you aren't the first.  There is a lot of curiosity about equestrian vaulting and not a lot of people have ever seen the sport, let alone heard of it.
For her senior portraits Nicole wanted something creative that would show off her love of horses.  At her planning meeting we watched videos of a recent competition, laughing especially at how her mom was mimicking all of the movements Nicole would do in her performance.  It was clear her mom had watched many hours of practice.  Our planning meetings help us to get to know our client's a little better so that we can start thinking creatively about their session before we ever arrive.  We learned that Nicole is a natural leader, who is outgoing and loves being outdoors.  She also loves being at home and would be just as happy snuggling up to her mom and watching movies.  Her mom is definitely her best friend.  We had never seen equestrian vaulting before so after Nicole left our studio we started watching vaulting videos on YouTube.  We saw everything from teams, to individual riders, from jumps and flips to choreographed dances all done from on top of a horse!
The day of the session we knew we wanted to get traditional equine senior portraits but the opportunity to capture Nicole performing was going to be too good to pass up.  The anticipation of such an amazing opportunity had us absolutely giddy when we arrived at the barn but then it started ti rain as soon as we got there.  "No, no no!" is all we could think.  "Not today!"  Rain was not going to ruin this amazing session.  Teresa reminded the team of her favorite phrase, the best sessions come from a little adversity.  This was just our little bit of adversity.
The team hung out in the barn with Nicole's family and waited for the rain to stop so we could start her equestrian senior portraits.  We were joined by Sampson, the adorable (and chunky!) family goat, who is pretty sure you should pet him at all times.  Teresa was preparing the photography gear and lighting, running back and forth to the car.  Justin was filming b-roll footage of the rain hitting the stall windows (and being chased by Sampson!).  Laurie, our horse-loving assistant was helping Nicole tack up her horse always saying her favorite phrase "let me do that so you don't get dirty!".  Nicole's dad and MeMe were watching on in amusement as if this was just another crazy day at the barn.  Wait, where did her mom go?  She was there one moment . . . and then gone the next . . . "Where did she go?" we asked.  Nicole just pointed to the dirt arena, where her mom was whipping around on a tractor dragging the arena in the drizzling rain.  "She never sits still" Nicole explained with a shrug and a laugh.  We all turned and watched her mom from inside the barn as the raindrops started to clear.  Sampson hobbled over and head butted Justin one more time, as if to say "time to go!" just as the last of the drizzling rain fell.  We were ready to get started.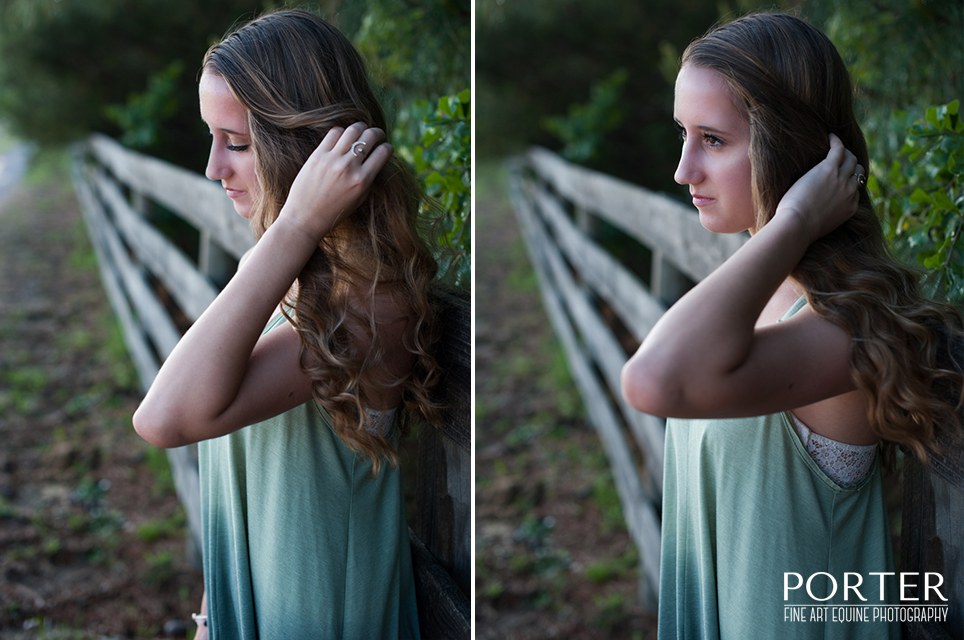 Along the gravel driveway was a gorgeous wooden fence with the right about of rustic charm to make our artist hearts go pitter pat.  We started with portraits of Nicole by herself against the fence as the evening sunlight finally broke through the clouds.  A warm golden glow enveloped Nicole and made her blue eyes sparkle even brighter.  Looking down for a moment the wind whipped through her hair and a soft smile spread across her face.  Click.  We knew Nicole was going to love it.
We trudged back across the driveway to the barn where her mom was moving around chairs and bags of feed.  She had finished setting up the arena and thought the barn needed a little work to be ready as a backdrop.  "Let us help with that!" we said in unison, as her mom dragged a bag of feed behind her she just said "No no, I got it!".  Nicole was right, she doesn't sit still.  With the barn door swung open, and Ebony getting a halter changed, we set up a few portraits of Nicole in front of the barn doors.  For only taking a few minutes, these were some of my favorite portraits of Nicole from the day.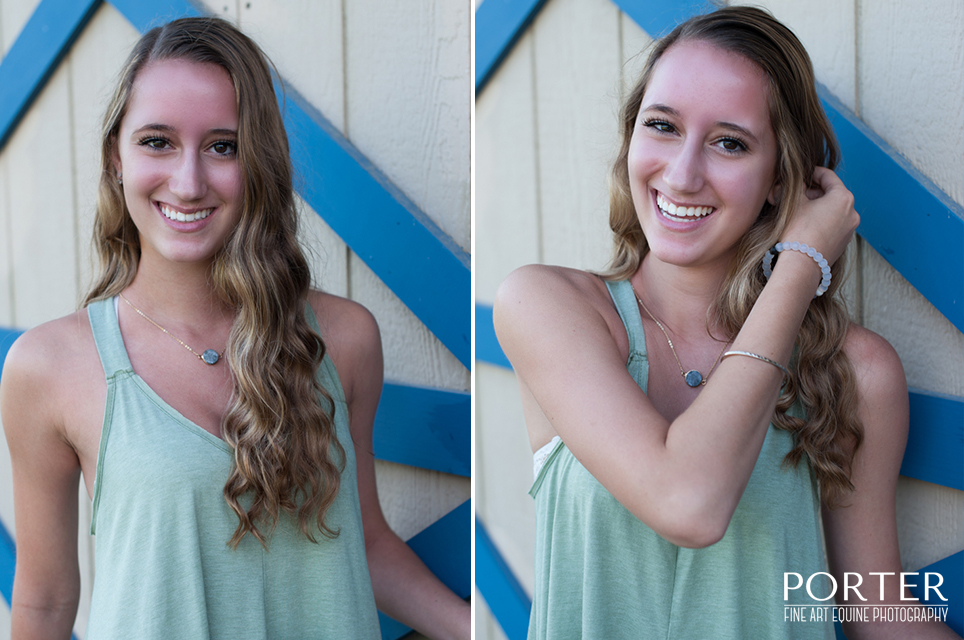 After an outfit change, Nicole came out on a beautiful flowing white dress for her senior portraits that was going to contrast perfectly with her horse.  With the clouds swirling overhead and the perfect amount of sunlight breaking through we walked toward the open pasture.  There were yellow flowers blooming everywhere and we took the opportunity for some beautiful portraits showing the soft relationship between Nicole and Ebony.  Kneeling in front of her and looking up, they seemed to have a whispered conversation between them.  A few frames later Ebony buried her face in Nicole's chest, and gave her a gentle nudge with her head like, get in here girl.
One of the last individual portraits we did of Nicole was her riding bareback on Ebony as she cantered through the field.  Justin wanted a video of them running straight at him while Teresa framed up a photograph from a little further away and from the side.  Working together to tell the story of a horse-loving senior and their horse for senior portraits takes special coordination.  Nicole walked Ebony back across the field to set up and as soon as we said "go" they were off.  Cantering towards us at a good clip, wind blowing both of their hair up in waves.  It is hard to capture a horse moving this quickly, at precisely the right moment, in focus and in the right position but after a few tries we knew we had it.
No quicker were we done then another front of storms blew in.  The horses knew it was going to happen before we did, getting irritable and anxious to go back to the barn.  We followed their lead and took shelter inside the barn right as it started to pour.  Undeterred we watched our weather apps and decided to wait it out.  Adversity makes the best portrait sessions, Teresa reminded everyone again, this time with a little more enthusiasm.  It was like she knew what was going to happen next.  Justin played around with Sampson and filmed more behind the scenes footage.  Teresa anxiously paced checking her weather apps.  Nicole stood in front of the large fan in the barn, trying to stay cool and for once, Nicole's mom sat still.  Something amazing was about to happen.
Read about Nicole's vaulting portraits with her twin sister Michelle, here.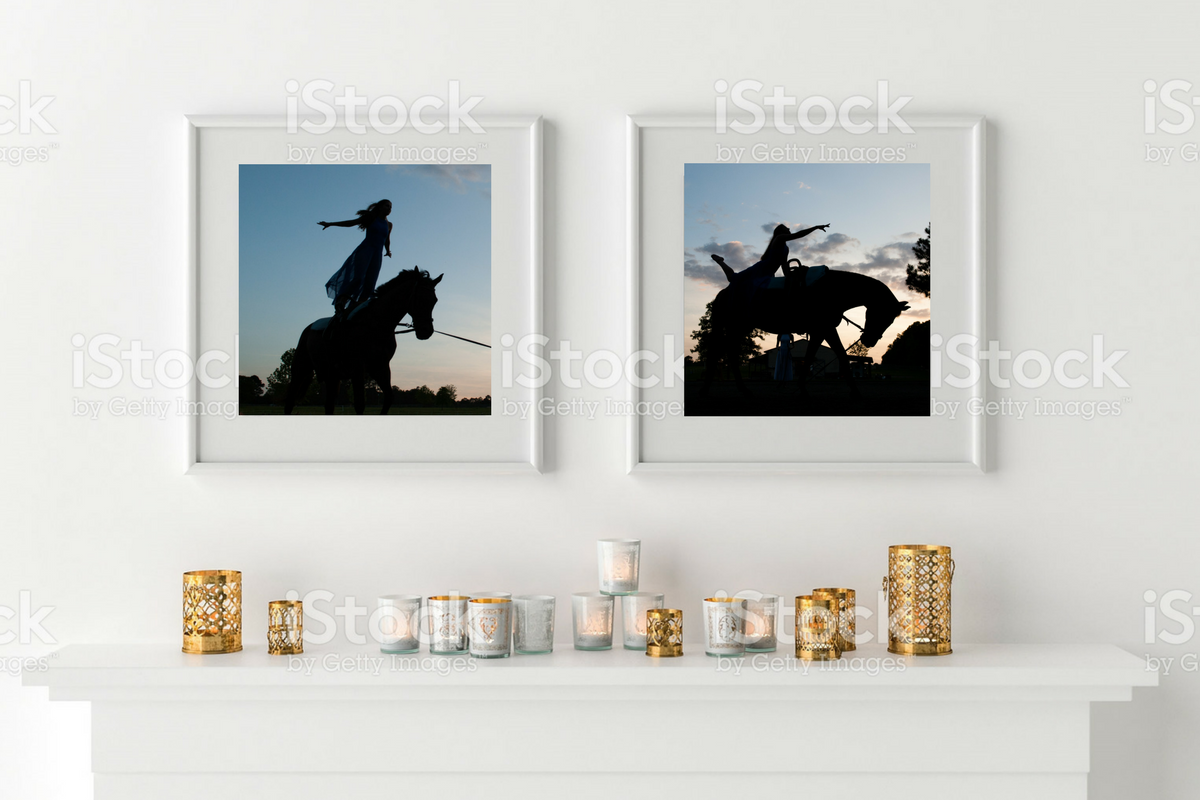 North Carolina and Worldwide
Teresa and Justin Porter are an experienced husband and wife photography and filmmaking team available for equine photography in North Carolina and for travel worldwide.  Their Studio is based in Cary, North Carolina but their commissions are available throughout Pinehurst, Southern Pines, the Sandhills, the Triad, and the Triangle.  
Let's Talk